Brett Burney to Speak on "iPad Tips" for Lawyers in Pittsburg (July 27) and Philadelphia (Aug. 25)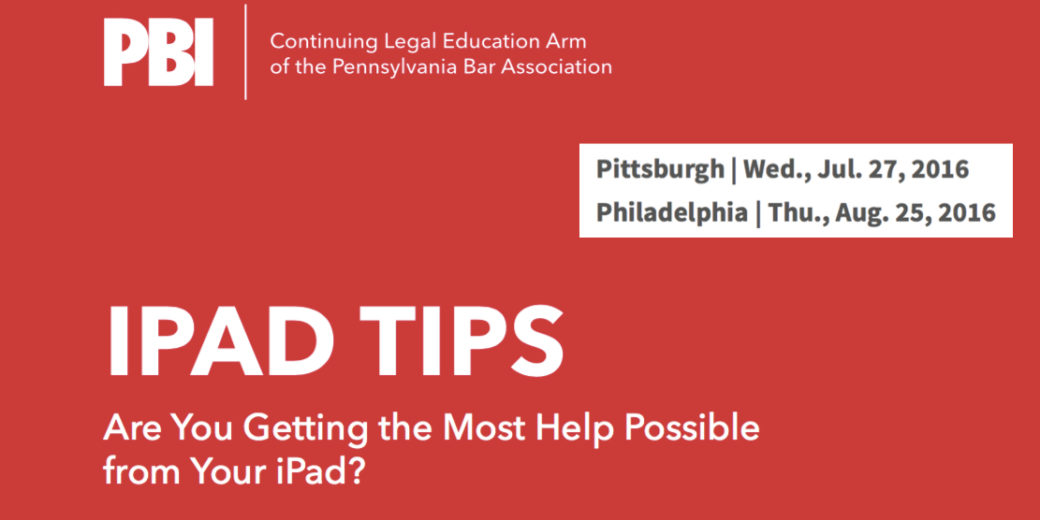 If you're looking for an in-depth iPad educational opportunity (and some CLE credit to boot!) AND you're located in beautiful state of Pennsylvania … I'm giving two full-day presentations on iPads for lawyers in Pittsburgh (Wed., July 27) and Philadelphia (Thurs., August 25) at the invitation of the Pennsylvania Bar Institute. I'll be giving the presentation with my good friend Paul Unger from Affinity Consulting.
The presentation is called "iPad Tips: Are You Getting the Most Help Possible from Your iPad?" The day is segmented into six one-hour, "byte-sized" presentations (see what we did there?) covering:
PDF and document management
Note-taking
Giving presentations
E-mail, calendar, contacts
Mobile ethics and security
And more!
The Pittsburg presentation is scheduled for Wednesday, July 27.
The Philadelphia presentation will take place on Thursday, August 25.