SALE on TrialPad, TranscriptPad, and DocReviewPad – Pick 'Em Up Now!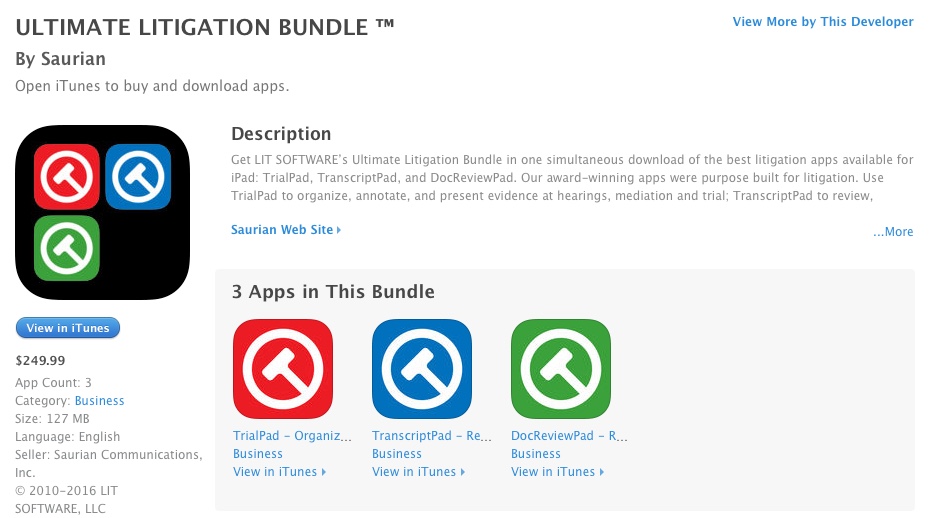 If you're a lawyer and you have an iPad, you should absolutely have the TrialPad, TranscriptPad, and DocReviewPad apps.
I haven't reviewed the three apps yet for Apps in Law, but I will certainly be doing so in the near future. The Lit Software company launched TrialPad in 2010 and that app continues to be the premiere app for showing documents and video NOT just in trial settings, but anywhere you need to do a callout of a paragraph, or highlight some text.
TranscriptPad is a fantastic way to manage transcripts and I know several firms where that's all they use.
I haven't used DocReviewPad as much, but the app is coming along nicely with each new revision.
But for a limited time (maybe only today, or this weekend), all three apps are on sale for $249.00. That may sound like a lot for iOS apps, but TrialPad by itself is $129.99 and TranscriptPad and DocReviewPad each are $89.99 each, which comes to $309.97. So the "Ultimate Litigation Bundle" with all three apps at $249.00 saves you $60.97. That is a fair price for professional-grade apps.
If you've been on the fence about getting these apps, this is a perfect opportunity. I've been watching these apps for years and I know the developer rarely puts them on sale so don't miss this opportunity!
If you still need a little convincing, here are two videos from real-lawyer-users that should help.
Let me know if you have any questions about using any of these three apps, and be watching for my reviews coming soon!