AiL009 – Stephen Embry annotates transcripts on his iPad (TranscriptPad) even during Derby Week!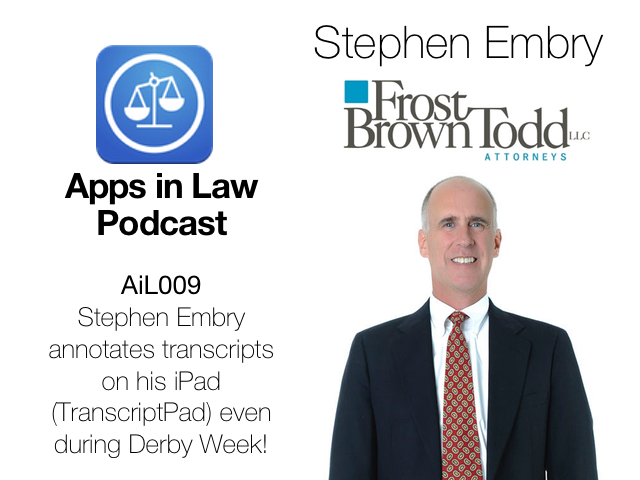 My guest today is Stephen Embry who is a member at Frost Brown Todd LLC. Steve is based in Louisville, KY, and practices in the Class Action, Privacy, and Mass Tort groups there at the firm.
Stephen is a member of fbtTECH – the firm's technology industry group that focuses on how technology is impacting the legal system and issues facing their clients.
I frequently cross paths with Steve at legal technology conferences and get-togethers, most notably the ABA TECHSHOW since Steve is active in the Law Practice Division of the ABA. Steve and I also serve on the Board of the Legal Technology Resource Center (LTRC) of the ABA. Steve mentions in the podcast that the LTRC hosts the excellent Law Technology Today blog and suggests that it's an excellent opportunity for young lawyers (and all lawyers!) to get published (contact the editorial team here).
I've always enjoyed talking with Steve since he practices at a large law firm, but still finds time to focus on leveraging technology for the practice of law. I just appreciate someone in Steve's position recognizing the importance of this topic.
Apps mentioned in this episode:
Links above may be affiliate links to the iTunes App Store or Amazon.com.
Podcast: Play in new window | Download (37.9MB)
Subscribe: Apple Podcasts | Android | RSS