Apps in Law Podcast Featured in Richland County Bar Association Newsletter (South Carolina)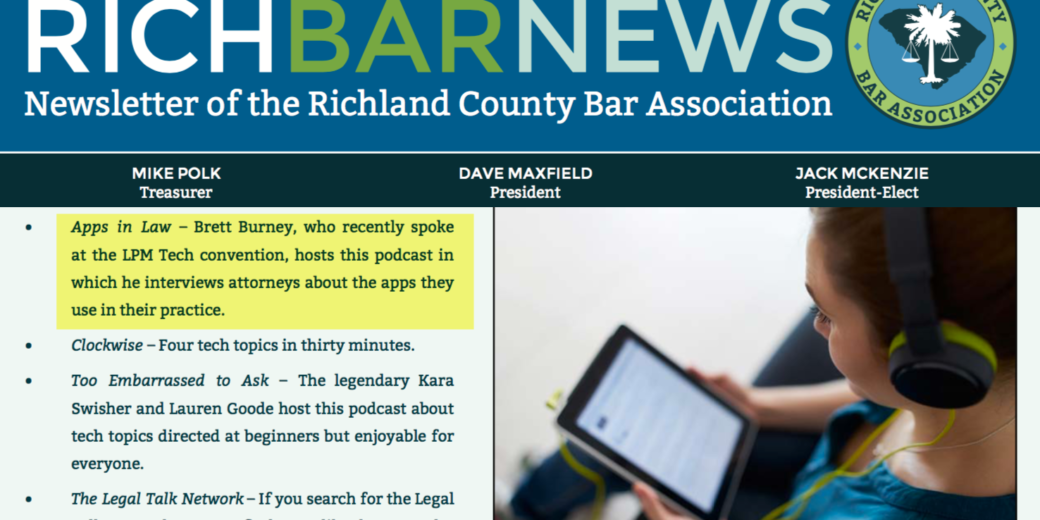 The Apps in Law podcast was recently featured in the winter edition of the Richland County Bar Association newsletter which goes to lawyers practicing around the Columbia, SC area.
I was in that beautiful city back in September 2017 speaking at the South Carolina Bar Association's LPM-TECH 2017 Conference which was wonderful. One of the attorneys I met there was Mike Polk, who practices in downtown Columbia at the law firm of Belser & Belser.
Turns out that Mike is the editor of the Richland County Bar Association's newsletter and provides an excellent set of suggested podcasts for lawyers to listen to.
Stay tuned as Mike is my guest on an upcoming podcast episode talking about a superb couple of apps that he uses to keep his day on track.
Thank you Mike and welcome to the members of the Richland County Bar Association!