The Best Conference for Mac-Using (Mac-Lovin'!) Lawyers – MacTrack Legal, Oct. 6-8, 2016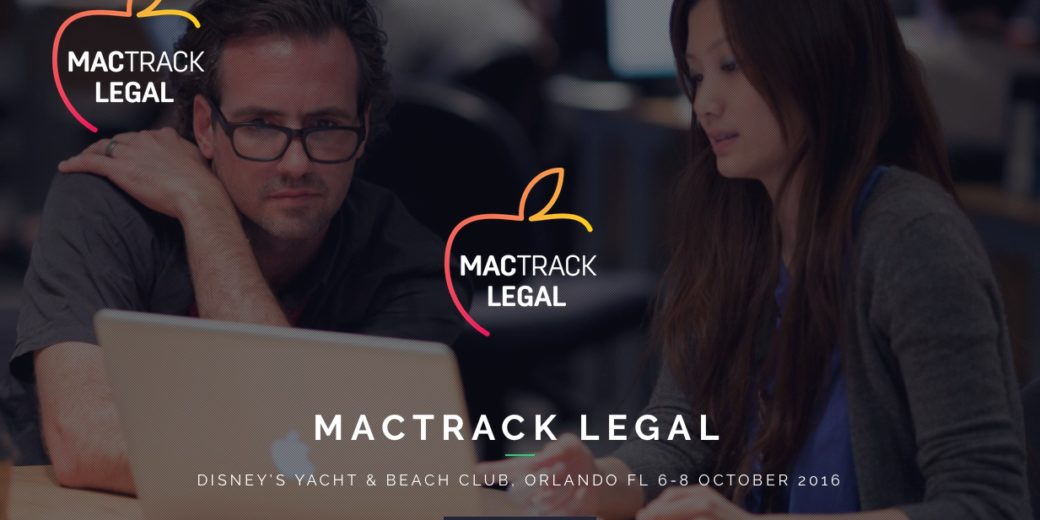 I am honored to be speaking at the MacTrack Legal Conference again on October 6-8, 2016. The conference was formerly called "MILOfest" and re-branded this year to reflect the growth of the educational opportunities over the past 8 years.
Mactrack Legal is specifically designed for Mac-using lawyers (or "Mac-lovin' lawyers") although the amazing sessions cover anything with an Apple logo. Everything about the MacTrack Legal Conference is designed to help you better integrate Apple technology into your practice.
I'm elated about the three sessions I'll be presenting this year:
Mastering Copy n' Paste – we all know copy n' paste and don't think about it much, but I'll be providing a bunch of tips and tricks and software utilities to make you a pro.
OneNote for Mac Lawyers (more "Devil Worship") – this is "part 2" from my presentation last year called "Dancing with the Devil … Microsoft Office on the Mac."
The Ultimate Gear-Off Panel – I'll be partnering with Katie Floyd, Mark Metzger, and Evan Kline for a fun gadget nerd time.
If you're a Mac-using lawyer (or WANT to be) I highly recommend looking at www.mactracklegal.com and the conference schedule. There are sessions on PDF, security, automation, marketing, and more!
You can also listen to Victor Medina, the founder and organizer of the conference, talk about the history of the conference and highlights on The Law Entrepreneur Podcast Ep. 27 "I'm Going To DisneyWorld – for the Mac Track Legal Conference."
Let me know if you have any questions.